Spotlight on Montgomery County Leaders: Meet Michelle Whittaker
MCDCC SPOTLIGHT
Michelle C.  Whittaker

MCDCC Member At-Large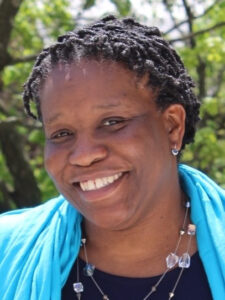 Hello, Montgomery County! I am Michelle Whittaker, resident of District 18 and At-large member of the Montgomery County Democratic Central Committee (MCDCC). I serve as Co-chair of the Rules Committee, where I facilitate conversations on structural reform proposals for the MCDCC. I am also proud to be the Chief of Staff for Montgomery County Councilmember Will Jawando — only the second Black woman to serve as Chief in the history of the Council.
My family and I moved to Montgomery County for the great neighborhoods and schools. I've been fortunate to get involved with local groups to help advocate for change. My mother was born and raised in DC and my dad is the son of immigrants. Their personal stories of disenfranchisement and discrimination are why I have focused my professional work on helping others tap into their power, freedom, and dignity.
I have a long history of activism in the community advocating for schools, fair elections, and access to food for all. In my professional work and personal passions, I am passionate about making a positive impact in our community. We must recognize the barriers to participation and work to remove them. That's why I am a strong advocate for ranked choice voting, fair elections, and increasing gender parity in politics — systemic reforms that expand the circle of democracy to more people. As a strong believer in community engagement, I encourage you to reach out to me or other members of the MCDCC to share your ideas, and join us in shaping a brighter future for all of Montgomery County.